NEIGHBORS [Lockdown project]
Une série de 32 photographies couleur réalisées durant le confinement du 17 mars au 11 mai 2020, chacune montée dans une boîte en bois peinte à la main.

Titre de chacune des 32 photographies :
Neighbor A3 - Neighbor A4 - Neighbor A5 - Neighbor A6 - Neighbor A7 - Neighbor A8 - Neighbor A9 - Neighbor B2 - Neighbor B3 - Neighbor B4 - Neighbor B5 - Neighbor C2 - Neighbor C3 - Neighbor C5 - Neighbor C6 - Neighbor C7 - Neighbor C8 - Neighbor C11 - Neighbor D1 - Neighbor D2 - Neighbor D3 - Neighbor D4 - Neighbor D7 - Neighbor D9 - Neighbor D10 - Neighbor E4 - Neighbor E5 - Neighbor E7 - Neighbor E8 - Neighbor E9 - Neighbor E10 - Neighbor E11

Jet d'encre pigmentaire sur papier Bright White Hahnemühle 310g.
Dimension de chaque photographie : 24 x 18 cm
Dimension de chaque cadre : 27 x 21 x 4 cm
Titrée, datée, numérotée, signée au dos du cadre.

Production : Éditions 28°52'
Prise de vue : 17 mars - 11 mai 2020
Date de tirage : Mai 2020
Édition : 1 seul et unique exemplaire par photo
Des lieux de vie - éclairés - mais dépourvus de vie - aucune présence humaine. Le projet NEIGHBORS recrée un immeuble, mettant en exergue l'isolement de personnes vivant côte à côte, chacun se retrouvant ensemble séparément. Les appartements sont identifiés par des lettres et des chiffres indiquant leur positionnement les uns par rapport aux autres, tout en faisant écho aux positions d'une bataille navale, dans une période qualifiée de guerre. Les décors et les lumières parlent à la place de leurs occupants et laissent libre cours à l'imagination de l'observateur: qui sont-ils? que font-ils? comment vivent-ils? Autant de questions qui ramènent chaque individu à sa propre réalité.

Living spaces - illuminated - but lifeless - no human presence. The project NEIGHBORS recreates a building, highlighting isolation of people living side by side, everybody being together separately. The flats are identified by letters and numbers indicating their location in relation to one another, while echoing the positions of a naval battle, in a period qualified as "a war". The sets and lights speak for their occupants, with nuances in which the imagination of the viewer can run free: who are they? what do they do? how do they live? Many questions that leads everyone to its own reality.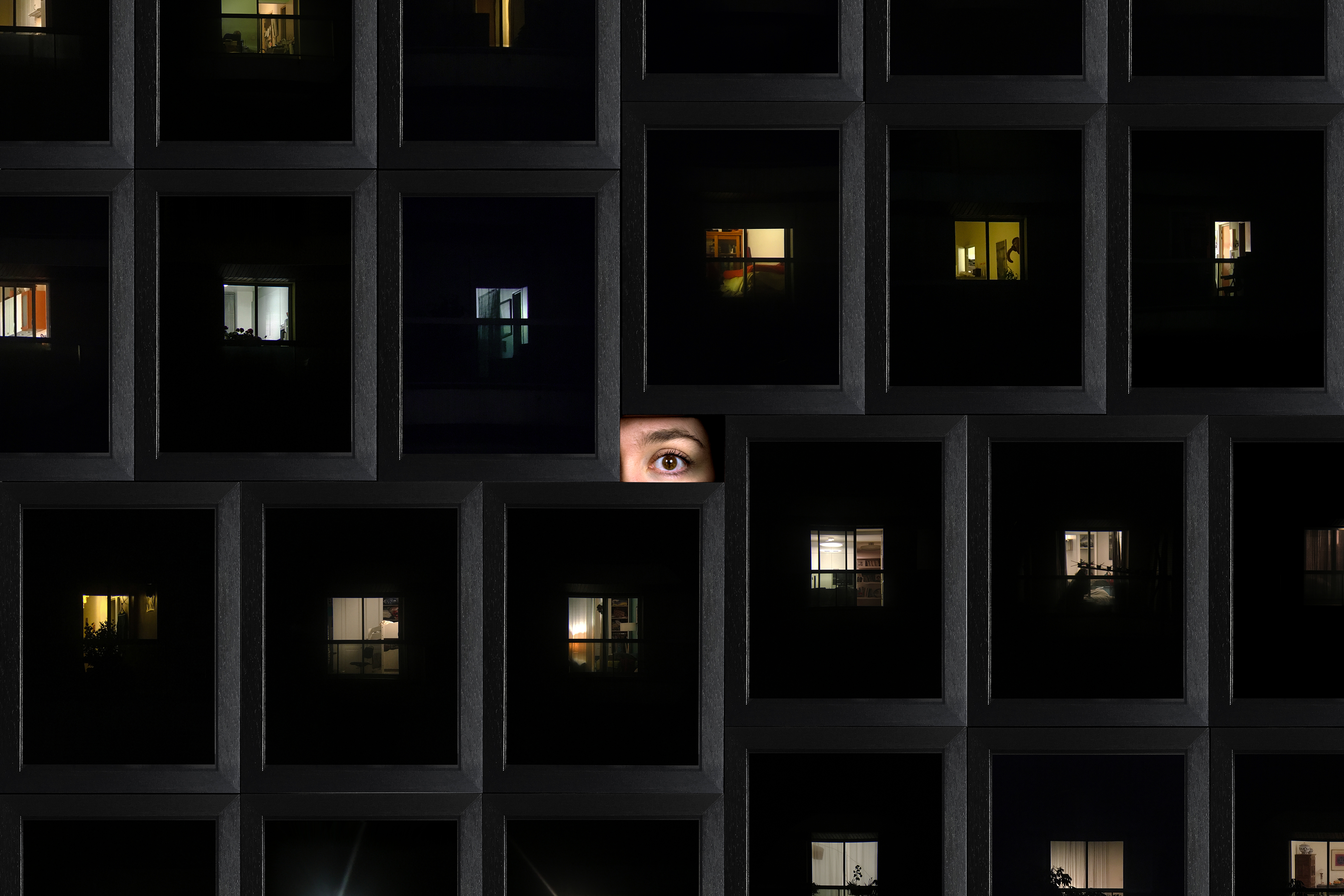 Photo © Elisa Birnie-Scott