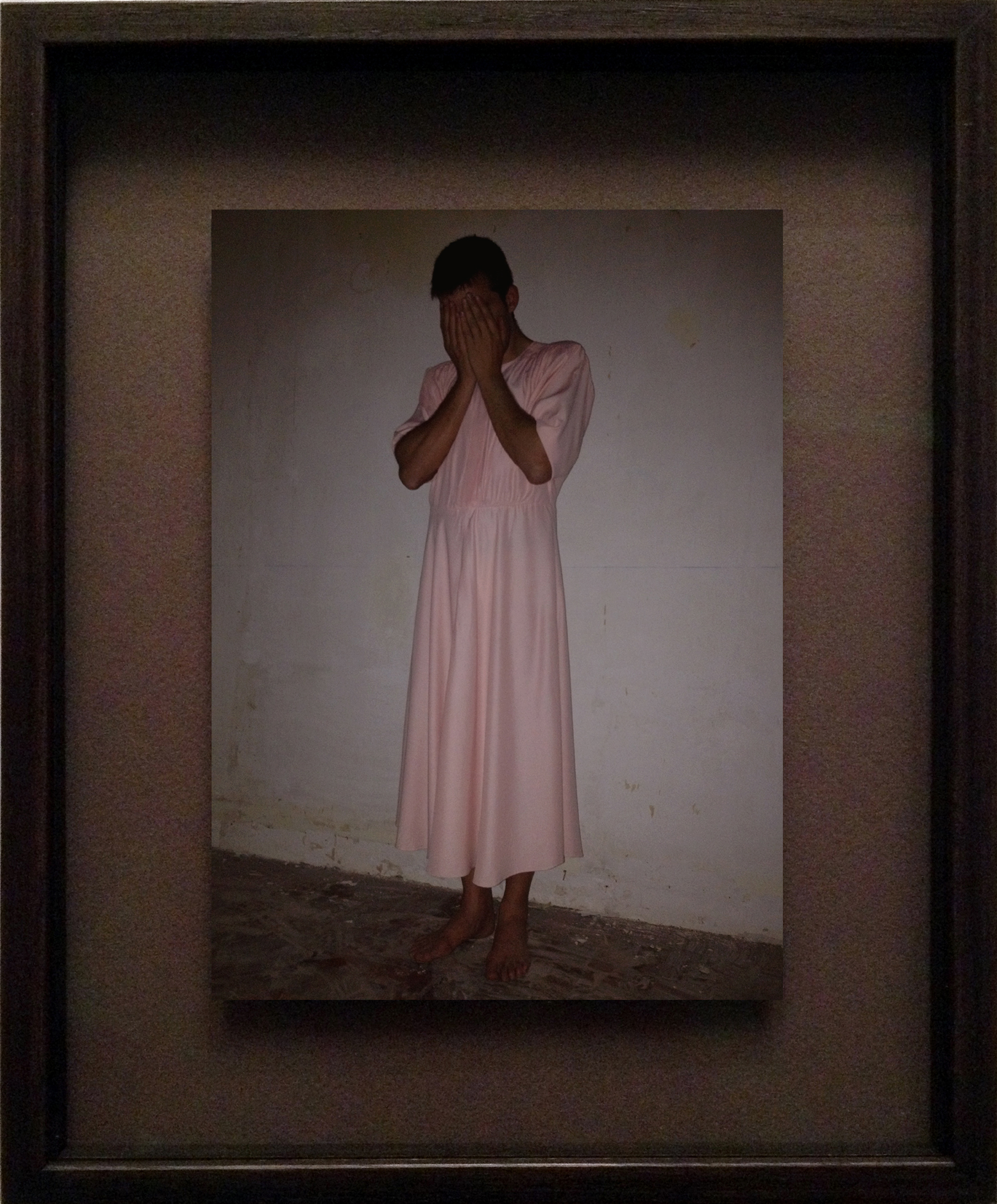 CRYING ANGEL (Hommage à Michaël Borremans)
Juillet 2014 (tirée en 2016)
Photographie couleur. Jet d'encre pigmentaire sur papier Fine Art Texturé Arches Museum 315g.
Dimension de la photographie : 18 x 13 cm.
Encadrement sous verre musée anti-reflets anti-UV.
Dimension du cadre : 27,4 x 22,4 x 2,5 cm.
Titrée, datée, signée, numérotée au dos du cadre.

Production : Éditions 28°52'Date de tirage : 2016
Édition : 6 exemplaires + 3 EA
Disponibilité : 1/6 - 2/6 - 4/6 - 5/6 - 6/6

Distinction : Oeuvre lauréate du concours "Summer of Gender" organisée par BOZAR, Palais des Beaux-Arts de Bruxelles.

Expositions :
- "Summer of Photography", BOZAR Palais des Beaux-Arts, puis RoSa asbl, puis ABN AMRO, Bruxelles, Belgique, 01/08/2014 - 01/09/2014
- "Galeristes", Le Carreau du Temple, Paris, 08/12/2016 - 11/12/2016



Créée en 2014 au moment du tournage du clip "Cold Ground" pour le groupe Love Like Birds. Chargée par l'énergie et la sensibilité de cette création vidéo, cette photographie fut conçue dans un cadre familial – son frère jouant le jeu du modèle, sa grand-mère s'appliquant à coudre les détails d'une robe devant rappeler celle de The Angel de Michaël Borremans.

Created in 2014 during the shooting of the music video "Cold Ground" for the band Love Like Birds. Filled with the energy and the sensibility of this video, the photograph has been a family project – her brother playing the model, her grand-mother sewing the dress to copy the one in Michaël Borremans' painting "The Angel".